Blog
Details

Hits: 18

 
Why Should I Stage My Home Before Selling?
Given the importance of selling your home in an effective manner and for the best price, it is easy to see why many homeowners are happy to carry out a number of tasks when preparing their home for a sale. The starting point should be a thorough clean and decluttering of the property but there is a growing argument that if you are looking to sell your home quickly and for a good price, you should stage your property.
The staging of a property is so much more than just cleaning, tidying and making it look presentable. There is a lot to be said for decorating property before it is placed on the market but staging a home is about a lot more than that. When you stage a property, you create a theme or style for the property and it is presented with the intention of appealing to a likely buyer. This means that the starting point in staging a property is knowing who the most likely buyer of your property is and what they are looking for in a home. This is why it makes sense to work closely with an experienced estate agent, who will be able to tell you who the most likely buyer is.
The key benefits of a staged property are:
It can help your home stand out on online property portals and at the presentation stage
It can help persuade a potential buyer to make an offer
A staged property provides you with focus in presenting the property
You can be confident the property is being presented for the buyer and not for yourself
It doesn't have to cost a lot of money or take much time to stage a property
All of these benefits are worth pursuing because they can all lead to the outcome of selling your property quickly and for a fair or profitable price. One of the biggest benefits of staging a property comes with the psychological effect of knowing that you are doing this for the buyer's benefit, not your own. It is only natural that property owners have an attachment to their home and even though you should look to remove personal items, your home is still likely to showcase your taste and style.
Stage your home for the potential buyer
Given that everyone has their own taste and style, what you like may not be liked by other people or by the potential buyers for your property. Taking the time to stage the property takes away some of this issue and helps to create a look and style that will be more appealing to the person or people who will more likely buy the property.
While the demand for property outstrips the supply of property, there is still a level of competition in the property market. This means you need your home to stand out as best as you can, and this is definitely the case when it comes to being found on online property portals. These portals have transformed the property market, making it easier for buyers to view a considerable number of suitable homes in a short period of time.
The property market is a crowded place
With this mind-set, many buyers aren't going to spend a lot of time weighing up homes in their initial look. If you don't grab the attention straight away, there is a strong chance the potential buyer will scroll past your property and your chance of a sale to that person may be gone forever. When you stage your property, and photograph or video it correctly, this footage or images can be used to make people pay attention to what you have to offer. In a highly crowded marketplace, staging your property can help you to grab people's attention, and sometimes this is all you need to improve your chances of selling a property.
If you are looking to stage your home with the hope of selling it quickly and efficiently, it makes sense to work with an estate agent who knows the local market. Staging works best when it is tailored to a specific type of buyer's needs and interests, so you want to work with an estate agent who knows who is likely to buy in this area. If you want to sell your home in Dorset, Austin Property are on hand to offer all the services you need, include staging your property so please get in touch if this of interest.
Save
Save
Save
Save
Save
Details

Hits: 27
Visit one of Weymouth's Top Family Events
Weymouth's Party in the Park will take place on 6th August. Bring the whole family - there will be plenty to see and do for people of all ages. Anyone who assumes Dorset seaside resorts are all about pensioners in deckchairs, kids making sand castles and families tucking into fish and chips out of newspaper doesn't know the half of it! As a foremost Weymouth estate agent, we have a first-hand perspective on how the town is becoming increasingly popular with young families who are looking to escape the frantic pace and crazy property prices of the South East and achieve a better work / life balance. This changing demographic is reflected in the broader range of events and things to do in the town, and a perfect example is this year's Party in the Park.
Where's the Party?
The event, which is sponsored by local radio station AIR 107.2, will kick off at midday at Lodmoor Country Park - a wonderful spot to visit at any time, with its beautifully kept green spaces and its miniature train rides for the kids. The party will go on till 7pm, and entry is free to all.
What's happening?
AIR 107.2's Chris Bonney will be there all afternoon to present a variety of acts, featuring the very best local talent from Weymouth and the surrounding areas, on the main stage. You will also have a choice of stalls to browse, to pick up some amazing bargains, not to mention visual displays and charitable events all around the park. When you feel peckish, there will be no shortage of food and drink stalls, with something to suit everyone. There will even be two treasure hunts throughout the afternoon – and if past history is anything to go by, these will prove as competitive among the parents as they are for the kids!
More information
Firm details on who will be performing and when are being constantly updated, so the best way to stay informed is by visiting the event's Facebook page. One of the most recent acts to confirm is Clubbercise, offering their unique blend of classic club tracks and easy to follow workouts. The perfect way to work off that visit to the food stands!
See you there
This year's event is set to be the biggest ever – and that is quite a claim, given the fantastic parties that have taken place in 2015 and 2016. Just take a look at this video of highlights from the past two years, to whet your appetite and give you an idea of what to expect. We can't wait to see you there!
Details

Hits: 637

Weymouth's answer to Portobello Market breathes new life into shopping centre
The launch of an indoor market offers new opportunities to independent retailers in the seaside town of Weymouth.
The popular seaside town of Weymouth in Dorset has added another string to its bow with the launch of a new indoor market, called the School Street Plaza. Billed as 'Weymouth's answer to Portobello market' in London's trendy Notting Hill, the new development opened at the end of June in the Colwell Centre building in School Street, and is home to a wide range of large and small traders, including furniture, antiques, arts and crafts, vintage clothing, a beautician, and a cafe/bistro.
Change of plan
The indoor market was originally planned to open in April, but traders were left disappointed when they turned up the day before the launch only to find the locks to the building had been changed. With traders unable to contact Tony Peers, the businessman behind the venture, manager of the nearby Brewers Quay Emporium, Mike Ellery, stepped in to take over the running of the project.
Since April, a lot of work has gone on behind the scenes to breathe new life into what was once a somewhat dilapidated shopping centre, and the new market opened successfully on 2 June, despite one of the windows being smashed overnight in a suspected act of vandalism. Over 70% of the available stalls have already been taken and building management, traders and members of the public alike all see it as a valuable addition to the town's shopping offering.
Mr Ellery hailed the development as "a good thing for the town." He said, "There are so many closed shops because rents are too high for most places. Independents struggle and this gives them an opportunity."
Stallholder Mavis Newton added "The new market has got everything; it's nothing like it was before so everyone should come and have a look. I think everybody will love it."
A lot to offer
The indoor market is undoubtedly a boon for the town, and it is just one of many attractions that Weymouth and the surrounding area has to offer local residents and visitors.
One of the key draws of the area is of course the stunning Dorset coastline, which boasts clear waters, rich sea-life and award-winning stretches of golden sand, including Weymouth's very own beach. What's more, over half of the county is a designated Area of Outstanding Natural Beauty and it is home to no less than five country parks. Of course, in order to enjoy these outdoor attractions, you need good weather - and luckily Dorset delivers in this area too, with 364 more hours of sunshine than the UK average.
On a more practical level, the legacy of the 2012 Olympics, has resulted in significant improvements to the area's transport, infrastructure, jobs and sports and leisure facilities. And at just a two and a half hours drive or a direct train from London, the town is also well-connected.
For those looking to make Weymouth their home, the town also has a good range of attractive properties to choose from, including those quintessential Georgian-fronted homes which give Weymouth its distinctive look. If you're tempted by everything this charming town has to offer, get in touch for information on the latest properties in Weymouth. We'll be happy to help you find your perfect seaside home.
Details

Hits: 342
The Council's Cost-Cutting Plans
With the council struggling to find the funds for it, Weymouth's free deckchairs for over 60's scheme could be scrapped.
If you were to ask any Weymouth resident what the best thing about the area is, chances are they'd mention the stunning coastline. Weymouth is famed for its beach; in fact, it was named the best beach in the UK recently. So during the summer months, everyone flocks to those famous golden sands to soak up the sunshine, meet up with friends, or spend some quality time with family. Over-60's are currently entitled to a free deckchair, but that could be about to change. Here's everything you need to know about the council's plans.
A popular scheme
Weymouth is one of the most popular places on the UK coast to retire to, and attracts many mature buyers. For the past 30 years, anyone over the age of 60 has been able to access deckchairs on the beach for free, as well as hire windbreaks for half of the usual fee. This has of course proved hugely popular with the pensioners of the area, and when the sun comes out, plenty of them take advantage of the great deal that's on offer. After all, why wouldn't you? Now though, the local council are beginning to look at changing this policy.
Not cost-effective
The council are considering getting rid of this policy for a number of different reasons. The first is that around 30 percent of the council's available deckchairs are given out as part of the free for over-60's scheme. This figure remains the same even during peak times. Other areas of concern include administration costs and the lack of deckchairs to hire out to visitors. This is a scheme that has never been reviewed since its implementation during the 1980's, and with local services under increasing pressure, the council have been forced to look at changing it.
An open process
For Weymouth locals who love to spend their days at the beach during the summer, it's not all bad news! Weymouth and Portland Borough Council have courted public opinion on the matter, and a full consultation will take place before any policy changes are finalised. Councillors knew that it would be a controversial move to get rid of such a popular scheme, and that's why the council have made every effort to listen to different opinions and carry out any changes in a fully transparent manner. If over-60's do have to pay for their deckchairs, it's been proposed that the extra revenue is used to fund swimming at Weymouth Swimming Pool and Leisure Centre for disabled local residents.
Weymouth is still a great place to live
Whatever decision is made on the free deckchairs scheme, the council will be investing money into the local community, making Weymouth an even better place to live. With a huge selection of homes for sale in Weymouth, we're the perfect people to help you relocate to this very special part of Dorset. With a picturesque harbour, a great culinary scene, lots of fantastic independent shops and a rich history, Weymouth is far more than just a beach. Whether you're experiencing it from a deckchair or on foot, there's no better place to be when the sun's shining.
Details

Hits: 140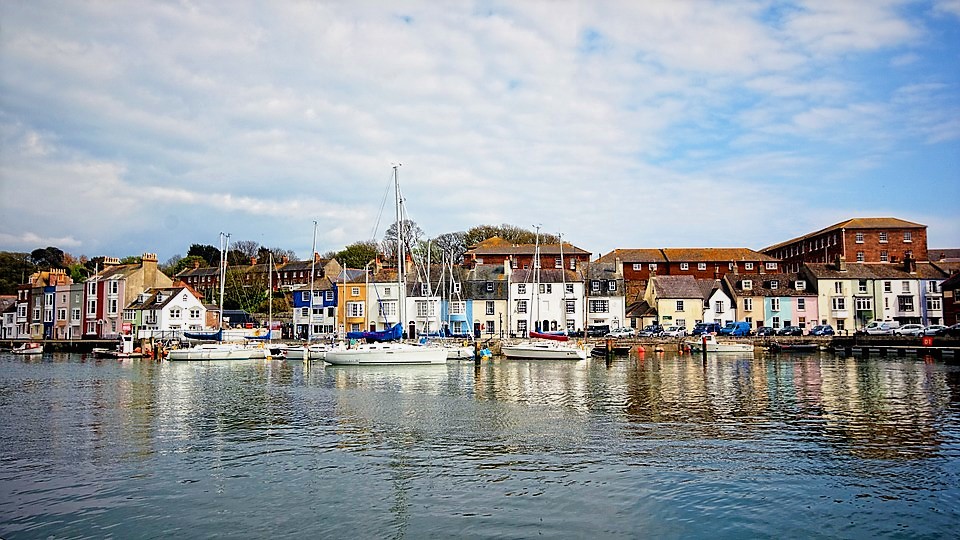 The Perfect Location for the Best Work-Life Balance
Low property prices, a great local infrastructure and good transport links. Plus the best beaches in the country. Weymouth has it all.
Back in 2012, Weymouth hit the headlines as the venue for the sailing events during the London Olympics. Five years have passed since then, and while few people other than sports quiz aficionados are likely to remember that particular claim to fame, the investment that it prompted has left a legacy that has made Weymouth one of the most desirable places to live for those looking for the perfect work-life balance.
From first time buyers to retirees and from single bedroom flats at less than £100,000 to luxury, detached seven-figure houses, you need only take a glance at the variety of Weymouth homes for sale to see that there really is something for everyone. Let's find out more about what Weymouth has to offer.
The holiday that needs never end
This pretty seaside town is the third largest settlement in Dorset, and has always been regarded as one of the most popular tourist spots on the south coast. This reputation has certainly been bolstered by its recent accolade of "Best Beach in Britain." Its close proximity to Portland, with its famous lighthouse, and to other tourist destinations in neighbouring Devon and Cornwall, mean that it serves as a great touring base as well as being an ideal holiday destination in its own right.
However, a growing number of people are gradually wising up to the fact that Weymouth can make a perfect home, meaning the holiday never has to end. The town is only seven miles from the county town of Dorchester, a journey that takes just ten minutes by train. Alternatively, Bournemouth is less than an hour away and there are even hourly services to London Waterloo.
Weymouth has also extended its internal economy beyond the traditional tourist industry in recent years, with the creation of the Weymouth Business Improvement District in 2013.
What to do in Weymouth
Award winning beaches are great, but do not make the mistake of thinking that Weymouth is a one trick pony that becomes a deserted ghost town in the winter months.
The town has a vibrant restaurant, pub and club scene all year round. And from classical theatre to the latest up and coming live music acts, there are plenty of entertainment options to cater for the diverse demographic groups that make up Weymouth's population.
Weymouth property
There is a huge choice to suit every budget and taste in and around Weymouth. Single bedroom flats in the town centre can still be found around the £100,000 mark, while there is a wide variety of three bedroom terraced homes on the market in the sub £200,000 range.
If you are looking for something a little larger, £300,000 will buy a four bedroom detached house with a good sized garden.
In an age when people are paying £400,000 for a three bedroom renovation project in the south east, the case for a permanent extension to your summer holidays in Weymouth is a compelling one.